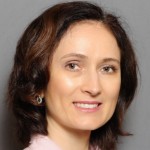 Larisa Sharipova is a Medical Doctor, Certified Holistic Health Practitioner, Public Speaker and Author of a new book "Listen to Your Body and Regain Your Health". Dr. Sharipova is a leading expert in natural hormone balancing, stress management, detox and anti-aging.
After healing herself and enhancing her own wellbeing, Larisa is very excited to share her knowledge with women who wants to achieve their happiness and health goals through nutrition and lifestyle modification. She guides her clients to natural ways of building a healthy mind and a healthy body, for more energy, less weight, and more joy in life.
She offers coaching for women through private sessions, workshops, retreats, and cooking classes around the world. Larisa's mission is to support and empower one million women to transform their lives and make the world a better place.
When Larisa is not coaching a client, speaking, making a new healthy dish or creating chocolate, you can find her doing yoga, reading a book or enjoying the time with her family.