Lentil Soup with Kale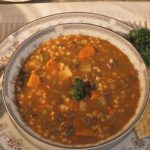 INGREDIENTS:
1 bag dry lentils (12 oz)
1/2 cup onion, diced
2 ribs of celery, diced
2 carrots, diced or shredded
6 gloves of garlic, minced
2 fresh tomatoes, chopped and crushed
2 small potatoes, cubed
1 cup of kale, leaves removed from stem and cut into small peaces
1 tbsp fresh rosemary, chopped
1 tbsp fresh thyme, leaves removed from stem
1 tsp paprika or more to taste
1/2 tsp dry oregano
1 tbsp olive oil for sautéing
Sea salt, black pepper to taste
DIRECTIONS:
1. Wash lentils thoroughly then cover with water (about 4-5 cups) in a small pot and bring to a boil.
2. In a pan, add 1 tablespoon of olive oil and sauté onion, garlic, celery and carrots and half the rosemary and thyme until translucent. Once fragrant and slightly translucent, toss into pot with lentils.
3. Add paprika, oregano, tomatoes, potatoes, a little bit of sea salt and freshly cracked black pepper.
4. Continue to boil for 20 minutes until most of the liquid is absorbed and lentils become soft.
5. Turn heat to low, add kale, and simmer for 10 minutes.
6. Toss in rest of the herbs and season with sea salt and black pepper as desired.
7. Serve with dollop of sour cream or avocado (vegan option).